Client Background
In 2021, NI Water sought to engage a professional service to improve and manage a targeted digital/social media advertising service to reach and positively influence opinion formers and consumers. Whilst NI Water had gained a strong social media following, they had not benefitted from having a strategic direction on social media or the sizable benefits gained from advertising content to target audiences.
The core objectives of the advertising service were to:
Significantly improving the reach and impact of social media posts via Advertising
Develop creative and compelling content based on key communication themes
Develop a Strategic Social Media Plan
Octave Digital has delivered an exceptionally strong and powerful social media marketing service that has enabled NI Water to significantly improve its audience reach and interaction.
Service Delivery
Octave Digital began the contract by establishing the core strategic areas for improvement on social media, the internal challenges with resourcing content and targets for reaching different audience types.
We worked with the client to develop a comprehensive plan that specifically addressed the strategic challenges set out by the client.
The plan laid the foundation for the digital/social media advertising service to be delivered by Octave Digital based on the key NI Water Communication themes. Based on the key social media usage figures and the audience targeting brief developed with the client, we agreed Facebook, Instagram and Linkedin should be the main priority platforms.
Facebook for reaching and engaging with key audiences in the general public- as well as community stakeholders
Linkedin for reaching and engaging with the business and professional community with a strong emphasis on stakeholder engagement.
Creative Content Service
Octave Digital developed and implemented a highly professional and creative content service based on the following elements:
Liaising with the client to assess communications priorities and key content to be developed – via a weekly online meeting
Production of creative social media posts on key themes including Major strategic announcements, capital works and investments stories,  Sustainability efforts & Renewable Energy,  etc and the use of emojis and quality content such as video and photo content.
Development of a Content Calendar
Scheduling and Posting to the agreed social media plan
Managing and Processing Advertising budget ad spend
Monitoring post and advertising performance and optimisation as required
Production of a regular monthly report and a bi-annual meeting with the client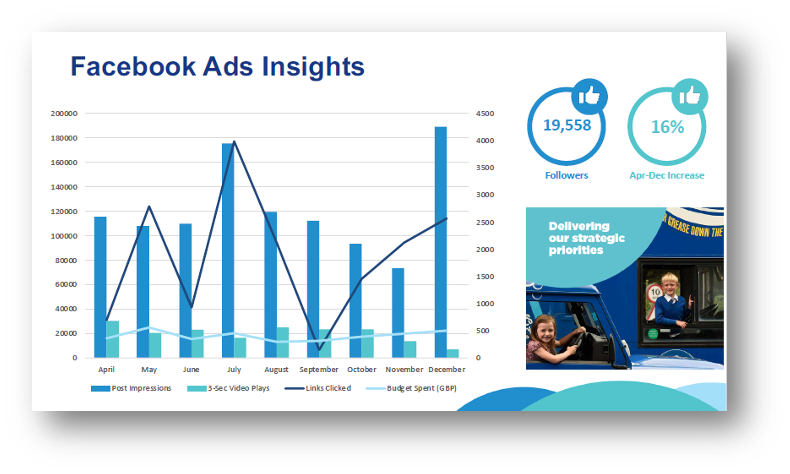 Results
Octave Digital has been highly commended by the Client for the quality and professionalism of our managed service, and the very significant improvement in audience targeting achieved
Our professional Social Media Advertising activity led to a demonstrably improved increase in followers, reach of social media content (the volume of people to see the content) and engagement with stakeholders.
Core results included:
From April to December 2021, across Facebook, LinkedIn, Instagram and YouTube, paid ads received 270,000 video views, and 20,700 clicks to the website and were seen by just under 1.5 million people.
On Facebook, NI Water followers have grown by 16% since April, and our LinkedIn audience has increased by 14% and Instagram by 5%.