Get your HubSpot Business Growth journey off the right start – with our HubSpot Set up and On-Boarding Service.
We strongly recommend businesses avoid wasting valuable time and resources on a DIY approach to setting up their HubSpot CRM and integration.
The Octave Digital HubSpot Set up and On-Boarding Service will bring you the following:
Optimising: Getting the very best from your HubSpot Investment

Maximise Efficiency:

 

Start to see the benefits of HubSpot – by getting your CRM and marketing collateral set up quickly and effectively

Expertise: Benefit and learn from our expertise in helping growth businesses get started on HubSpot

Specialist: We specialise in working with small businesses new to HubSpot

Service Outline – HubSpot Set Up and On-Boarding
Our professional HubSpot Set Up service is based on the following elements:
Client Onboarding Consultation
A review and planning consultation designed to kickstart the project. Together, we'll:
Discuss your current marketing and sales operations, challenges and goals

Pinpoint the core areas for improvement

Outline key elements of the HubSpot CRM Marketing and Sales Platform

Review and Agree the key outputs of the Growth service including roles and

 

responsibilities and deliverables
Contact Data Integration
Octave Digital shall set up your HubSpot CRM quickly and efficiently, concentrating on the following areas:
Email Integration: Connecting your email data to your HubSpot CRM

Filter Creation and Lists

Importing Contacts: importation of key customer and lead data into your HubSpot CRM

Defining Deal Stages: Creating a series of stages to advance people to contact you / buy
Tool Set-Up and Configuration
Setup content and contact tools

Setup and configuration of analytics tools

Inbound Marketing and Sales Strategy
Inbound marketing is an activity that gains an increase in leads from your website.
Our inbound marketing strategy will exploit highly effective inbound tactics – (from search to social) and lay a strong basis for your future leads growth.
Well work with you quickly to develop a growth plan based on :
Identifying your core audiences – targeting the right people and companies

Buyer persona development –

Buyer Profile Development

Sales & Marketing Alignment – Develop a straight-forward system for improving the progression of leads – from generation to close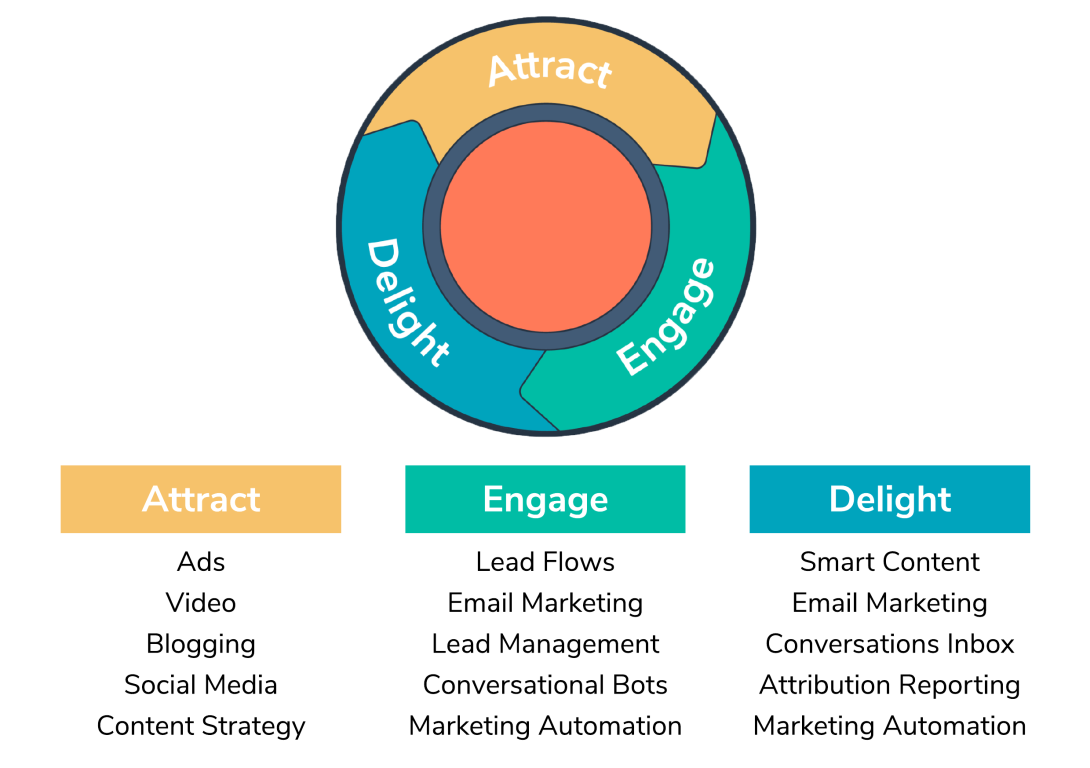 Reporting
Reporting the key successes and areas for further action, forms a key part of the Growth Service. Octave Digital shall establish the key marketing and sales outputs that need to be measured and develop a reporting template which we will generate every month.
Key areas to Report in include:
Reach Impact: the volume of people reached by the marketing activity

Activity performance by source: across emails, social ads and search etc

Conversions: Evidence of marketing-related conversions

Business Development Growth: conversions of prospects/leads to sales

Free Discovery Call
If you're frustrated with your marketing and sales performance, talk to us about how we can enable your growth!
We'll be able to quickly help you by :
Talking to you about your key marketing and sales challenges

Providing a free review and feedback on your marketing

Outlining how we can help