Our managed digital marketing campaign will significantly improve your reach, engagement and conversions via:
Planning: a roadmap for marketing improvement -based on your business objectives 
Activity: Expert delivery of key digital marketing activity – from search advertising to social media engagement 
Results Reporting: Using data to demonstrate the campaign results and success
Benefits of a managed digital marketing campaign 
We've gained genuinely excellent results for clients – including The Financial Services and Pensions Ombudsman and Cavan Tourism.
Key Benefits of our managed digital campaigns include:
Demonstrable improvement in your business and marketing outcomes 

Highly impactful marketing delivered by an experienced team of experts 

Reduce spend on dated and ineffective marketing tactics 
Digital Marketing Campaign Service 
A digital marketing campaign is the delivery of planned activity across key digital channels. It's designed to improve key marketing objectives such as awareness and engagement or sales.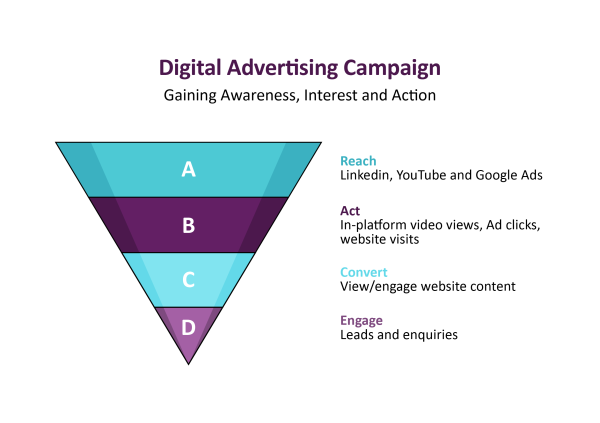 Awareness: 
Create significant awareness among target audiences for your brand or initiatives. We'll utilise the most powerful and relevant digital platforms – for example social media advertising, Google Search or You Tube advertising – to ensure you are reaching a relevant and meaningful audience. 
Interest and Desire: 
Generate interest from audience for your products or services and creating the desired emotional effect 
Action: 
Driving the desired marketing related actions – from viewing / downloading content increasing sales, service enquiries / leads 
Retention: 
Retain and drive repeat sales – through marketing activity to build relationships and engage with key audiences, customers or clients
Recommendation
"Octave Digital delivered superb results from their Social media advertising campaign to help promote our Electrical Recycling Drop Off Days. The campaign activity had a very significant impact on increasing donations and showed the power of Facebook marketing when managed professionally. I'd certainly recommend working with Octave Digital".
Yvonne Holmes, Head of Corporate Communications, Electrical Recycling Platform Ireland
Contact Us