600% increase

in wedding bookings

Fully sold-out

bookings for two Ladies Lock-Ins events – following 3 day advertising campaigns

Gaining business

from new audiences across Belfast by promoting the Chelsea brand, products and events via Facebook Advertising
Background
The Chelsea Bar is a modern bistro bar in the heart of the Lisburn Road Belfast specialising in quality food, entertainments and function hire.
Following an extensive refurbishment, The Chelsea required more effective marketing activity with a stronger focus on market reach and sales.
In late 2015, Wine Inns – owners of The Chelsea – commissioned Octave Digital to help devise a modern marketing plan, and to provide expert, outsourced management of digital and social media marketing.
Client Needs
With a strong product range, good reputation and luxury refurbishment, The Chelsea Bar needed to gain more effective exposure across the media landscape – from social media to Google search.
Most importantly, the marketing needed to have a real impact on sales across a number of product and service areas.
Strategy
Our strategy work began where all proper marketing strategies should – with insightful, actionable market research to identify the best approach for reaching and connecting with the right audiences. Following our research, we created a strong strategy emphasising smart, effective use of modern digital marketing.
Digital Marketing Set-Up and Improvements
We set up a number of digital marketing properties including Google Search marketing, Facebook advertising as well as making significant improvements to other areas including email marketing and website developments.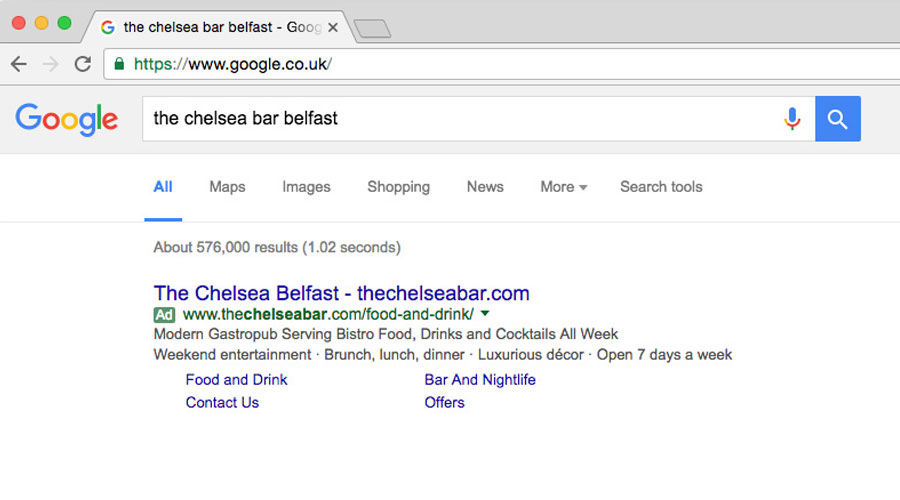 Digital Marketing Campaigns and Management
Our activity was based around gaining a sizeable increase in new custom from target audiences, in addition to encouraging existing clientele to re-engage and return.
Facebook advertising played a very significant part in the marketing activity. With the right products and promotion, Facebook is a genuinely powerful marketing tool that allows businesses to micro-target audiences quickly and effectively, with the right content. It also offers the most cost-effective advertising on the market.
The Facebook advertising activity was concentrated around a number of core products and events. There's a snap-shot of some of the activity:
Boosting Weddings Enquiries and Sales
One of the core success metrics for our marketing activity was to promote The Chelsea's wedding luxury venue hire and significantly raise bookings. Our marketing activity concentrated on a mix of the following tactics:
Development of a strong website landing page: complete with great visuals, powerful copy and strong calls to action to encourage enquiries
Use of Google AdWords search marketing: to ensure the Chelsea was highly visible on Search for local wedding key phrases
Facebook marketing, competitions and advertising
Email Marketing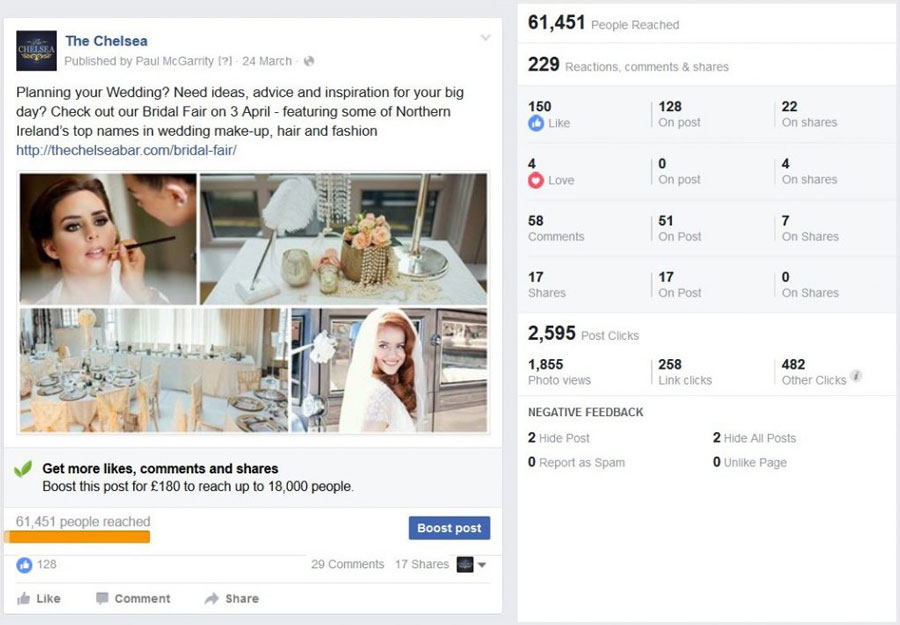 Friday Swing Night
Very significant marketing reach = over 53,000 target customers reached
Excellent feedback from current and potential clientele
Increase in event attendance and large functions bookings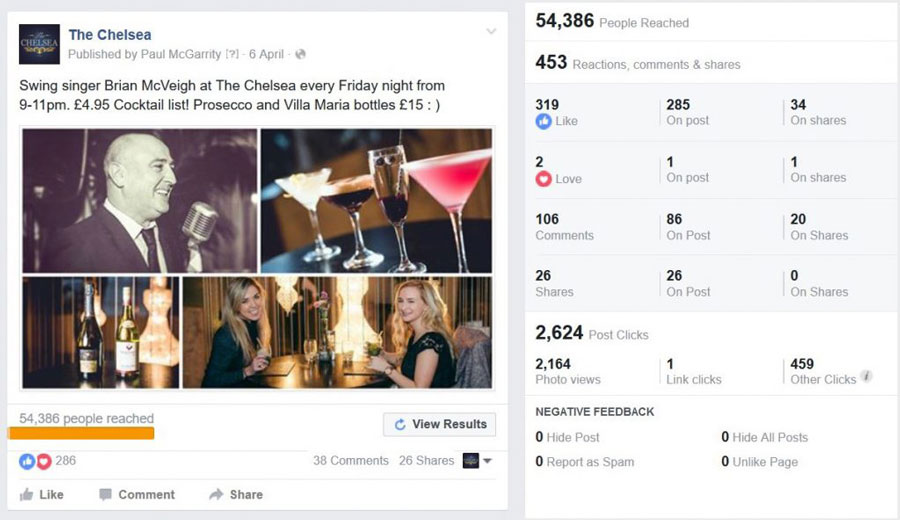 Ladies Lock In
Micro-targeted advertising based on Facebook interests, location and gender with significant marketing reach = over 36,000 reached
Excellent feedback and on-post engagement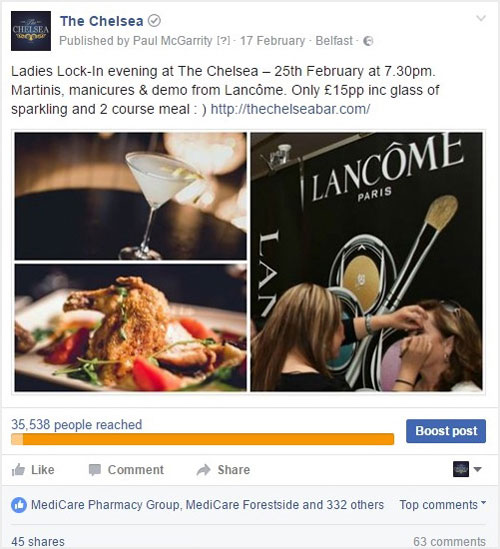 Online PR
Octave Digital created and ran successful competitions and online PR activity; primarily to engage with existing customers. We deliberately avoided the lazy and ineffective 'Like and Share' competitions, all so common on Facebook. In February '16 we ran a competition to encourage people to describe their most memorable date and promoted and shared the online buzz on Facebook.